MARIAGE BLANC
AGENT: MATTHEW
AVAILABILITY: SEE AVAILS / UPCOMING SHOWS
TOOLS: MAKE AN OFFER / PROMO MATERIALS / PUBLICITY
BAND SITES: OFFICIAL BAND WEBSITE / FACEBOOK PAGE
FREE MP3: Entire EP available here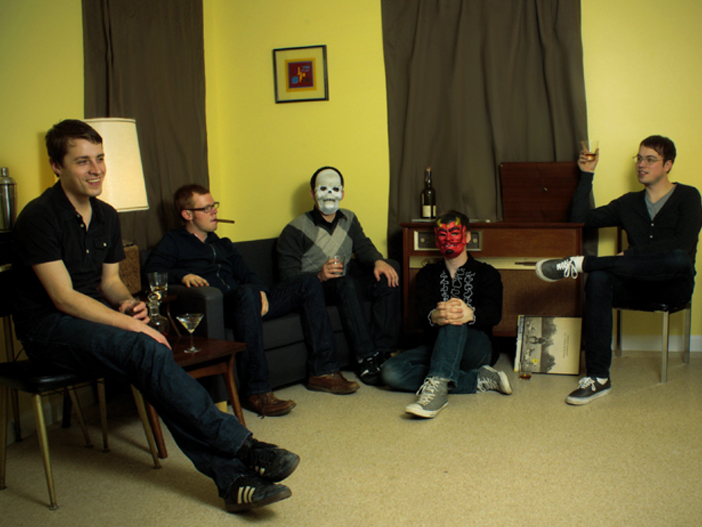 HOMETOWN: Pittsburgh, PA
DISCOGRAPHY:
2008 - BROKEN RECORD EP
BIO:
Mariage Blanc is a five-piece, indie-pop band based in Pittsburgh, PA. Their self-released debut EP, Broken Record (2008), has recieved overwhelmingly positive reviews, being described by Mike Mineo of Obscure Sound as "a wonderful array of melodically rich songs, never lacking in hooks or fresh ideas"
Since releasing Broken Record, Mariage Blanc has shared the stage with acts such as The Caribbean, Ra Ra Riot, The Little Ones, Bear in Heaven, Say Hi, Telekinesis!, Cloud Cult, The Spinto Band, and Bart Davenport.
The band is currently tucked away in their self-constructed studio, working on their debut LP, scheduled for release in Summer 2010.
REVIEWS:
When it's all said and done, there's really not much more you could ask for from a record like this. It's varied, yet still manages to sound focused. There's a lot going on, yet it's easy to listen to and not exhausting in the least. It's an amazingly promising debut and... I can't wait to hear what's to come.
-AbsolutePunk.net
Mariage Blanc's Broken Record shows a group that is simultaneously content with 60's pop and modernistic production. Wurlitzers, brass, synths, and strings compliment the conventional indie-rock arsenal of guitars and rhythm to stir up a wonderful array of melodically rich songs, never lacking in hooks or fresh ideas.
-Obscure Sound
That music-supervisor-friendliness, as well as the kind of lush orchestration and arrangement suited to the era of Arcade Fires, Polyphonic Sprees and . Broken Social Scenes, make Broken Record a very promising debut.
-Pittsburgh City Paper
From clever chord progressions to the use of Wurlitzer, trumpet, Mellotron samples, and even a string section (Mariage Blanc) create a full studio sound reminiscent of both 60's pop (Beatles, Zombies) and 70's production bombast (Electric Light Orchestra).
-Pittsburgh Post Gazette